Thanks to Bobbie for giving me this award. I'm so happy to get it. I meant to do this post right after I got the award. Unfortunately, I had to replace my sidings, so it was delayed a whole lot. But, this award doesn't spoil, so I'm doing it now.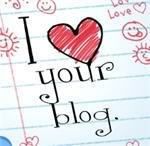 After receiving the award you are supposed to pay it forward:

1)
Add the logo of your award to your blog.
2)
Add a link to the person who awarded it to you.
3)
Nominate at least 7 other blogs.
4)
Add links to those blogs on your blog.
5)
Leave a message for your nominees on their blogs.
Here are my seven blogs:
1. Sidney's
My Sari Sari Store
. This is a photoblog about the Philippines. I find it very informative and pleasant to go there because he's giving me view of the Philippines that I never got to see before.
2. Charles'
The Queer Chef
. And just like he promised, he's queer and he'll make your taste buds cheer. Right now, he's not into cheering your taste buds, but he's definitely going to make you cheer when you visit him.
3. Sanna's
MisbehavinAngel
. She's a mother of one from Germany. She's creative, and she's into books like I am. She's quite an impressive lady.
4. Acey's
tralalalala
. You have to be there to know it. It's about her life, thoughts and arts. She's quite an impressive artist.
5. Cathy's
Me and My World
. She's is creative and wonderful and it shows in her blog. She's a fabulous cook also. I love her food. I know what I'm talking about because I have eaten her food.
6. Pamela's
Writer's Block Review
. She's writes book review like I wanted to write them.
7.
Lori's Reading Corner
. She's a book blogger, and I like her reviews too.