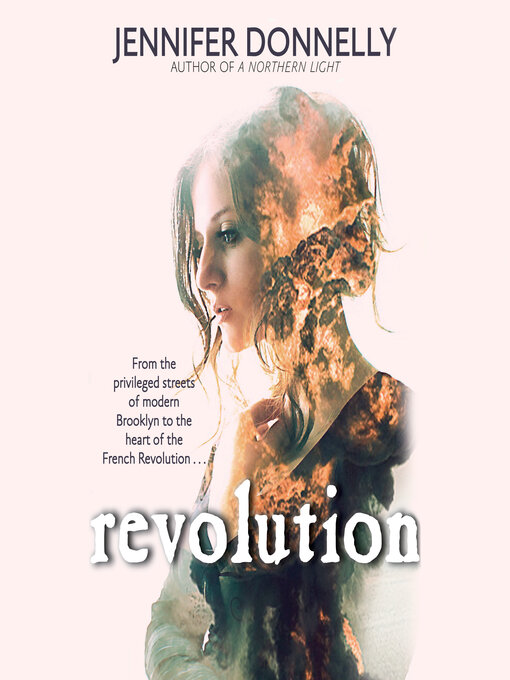 Revolution
[ENHANCED]
Edition: Unabridged
by
Jennifer Donnelly
Readers: Emily Janice Card
Emma Bering
Publisher: Listening Library
Subject(s): Fiction
Historical Fiction
Juvenile Fiction
Language(s): English
Awards: Odyssey Award Honor
American Library Association
Description



BROOKLYN: Andi Alpers is on the edge. She's angry at her father for leaving, angry at her mother for not being able to cope, and heartbroken by the loss of her younger brother, Truman. Rage and grief are destroying her. And she's about to be expelled from Brooklyn Heights' most prestigious private school when her father intervenes. Now Andi must accompany him to Paris for winter break.

PARIS: Alexandrine Paradis lived over two centuries ago. She dreamed of making her mark on the Paris stage, but a fateful encounter with a doomed prince of France cast her in a tragic role she didn't want--and couldn't escape.

Two girls, two centuries apart. One never knowing the other. But when Andi finds Alexandrine's diary, she recognizes something in her words and is moved to the point of obsession. There's comfort and distraction for Andi in the journal's antique pages--until, on a midnight journey through the catacombs of Paris, Alexandrine's words transcend paper and time, and the past becomes suddenly, terrifyingly present.

Jennifer Donnelly, author of the award-winning novel A Northern Light, artfully weaves two girls' stories into one unforgettable account of life, loss, and enduring love. Revolution spans centuries and vividly depicts the eternal struggles of the human heart.
I did not like this book at first. I just finished Sherrilyn Kenyon's
Acheron
and I wasn't in the mood for more angst in my audio book. I just feel like I'm going to end up driving onto a tree if I hear anymore suffering. However, this is Jennifer Donnelly. THE Jennifer Donnelly who wrote
The Tea Rose
and
The White Rose
, books which I re-read because I enjoy and love the story very much. It's right up there with Paullina Simon's
The Bronze Horseman
, or Elizabeth Kostova's
The Historian
, C.W. Gortner's
The Last Queen
. Historical, epic and not to be missed. So I listened. I have to restart the first disc three times. But that's not strange for me. I have to restart Diana Gabaldon's
Outlander
about 7 times before I found my groove and adored the book.
I didn't understand what the book was at first. There were some pretty neat lyrics though. Anyway, by the time I put the 2nd out of 12 disc, I'm in. I want to know what happened to Andi's brother. I want to know what she's going to do next. I'm invested. This is the best possible way to enjoy a story. Being invested in a character.
I'm still 4 discs away from finishing, but I'm confident that I recommend this book. Don't missed it. Jennifer Donnelly did it again. This author is so talented, reading her book (or listening to it) is a gift.
Why one star less? Only because I have to restart more than once to get into the story. I'm not sure if this is due to my having to get used to the reader or some other thing. However, I love the book now and enjoying it very much.